I better post this before it's summer and no one reads the forum! This trip was back in March. It was a strange week. The weather was hot, real hot, 100 in the valley. A couple of years ago we had a trip like this but, despite the fact that it had been an El Nino year, there was almost no snow and we spent a bunch of time in the high Panamints. This year, though, there was snow, and the road above the Kilns was closed. So sort of stuck between a rock an a hard place.
It was cool the first evening when we arrived, and a nice full moon made for a short beautiful stroll out on the Mesquite dunes - we stayed at SPW for the whole week. Most of the light in this pic was actually moonlight - it's amazing what a pocket camera can do these days with low light!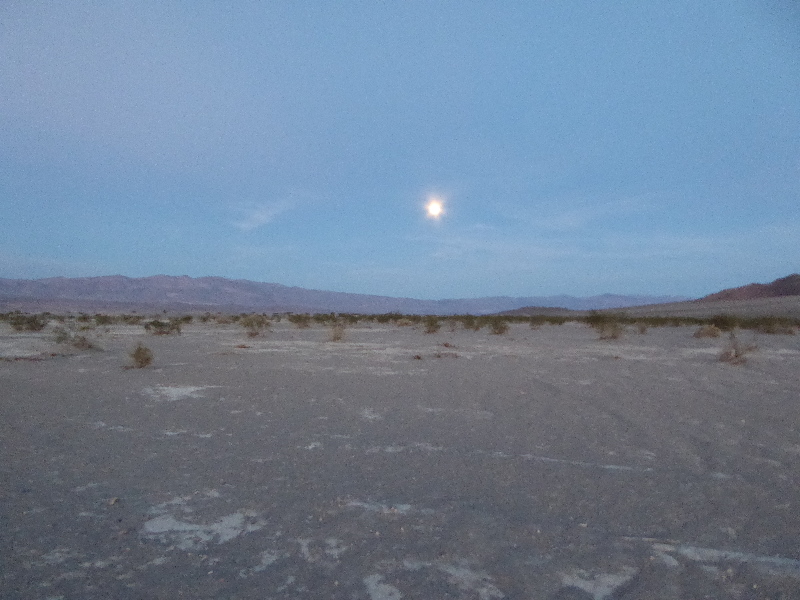 The next day we went up Corkscrew.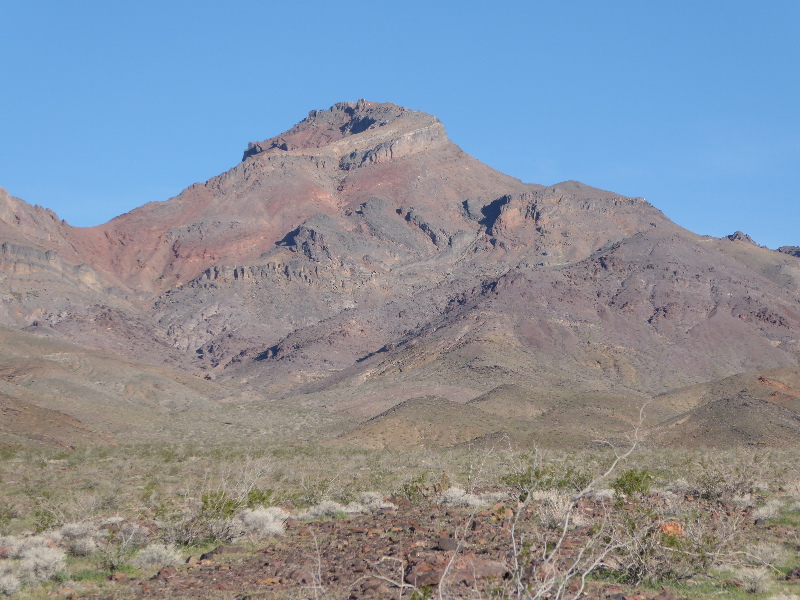 As with many of the peaks we ended up doing on this trip, Kathy and I had been up there before, but it had been nearly 20 years ago, and neither Eric nor Ben had been. It's always fun to find your old register entries, and the view was just as good as ever.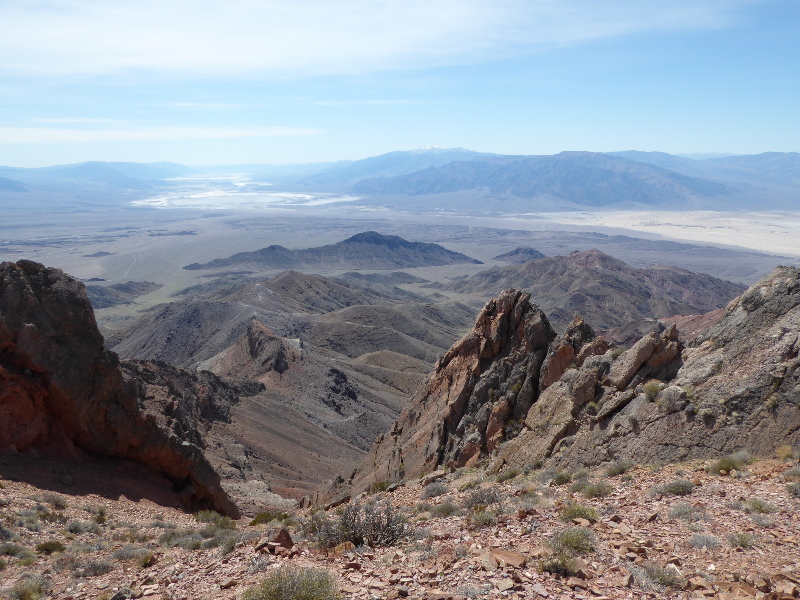 We went up the ridge route, which seems to be the main approach these days. It is funny how different the walk was from our memories of the walk!
The next day was an exercise in a bit of frustration. Some years ago three of us had followed a tip from Kauri and gone to Borax BM via the canyon just west of Corkscrew Canyon. We'd tried to loop out by dropping into 20 Mule Team but got cliffed out. But Diconnet implies you can get up 20 Mule Team, and another poster here even had a GPS track, and there is a fork at the very end of 20 Mule Team, while previously we'd looked down only one of them. So we got a bright and early start and headed up. It's very scenic in there, but we could not get up either fork. Just to much crumbly mudstone stuff and we just were not going to do it.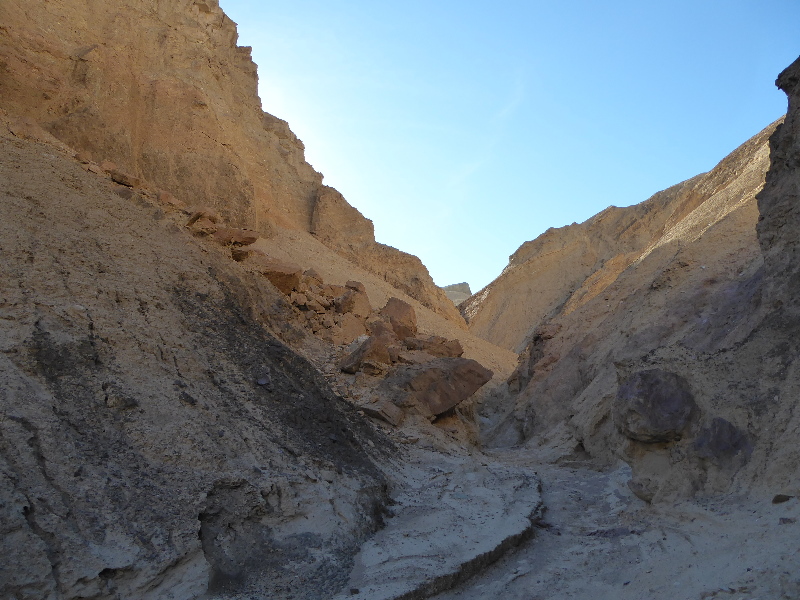 So we hiked out and checked out side canyons and drove over to Navel Spring. Now it was getting hot. Real hot. We poked around looking for sleeping circles then hit the shade in the spring area and chilled for a few hours until it wasn't quite so hot out. Then we headed up sheep / Indian trails up the ridge behind Navel. There's some nice long ridge walks in there on trails, maybe a few old hunting blinds.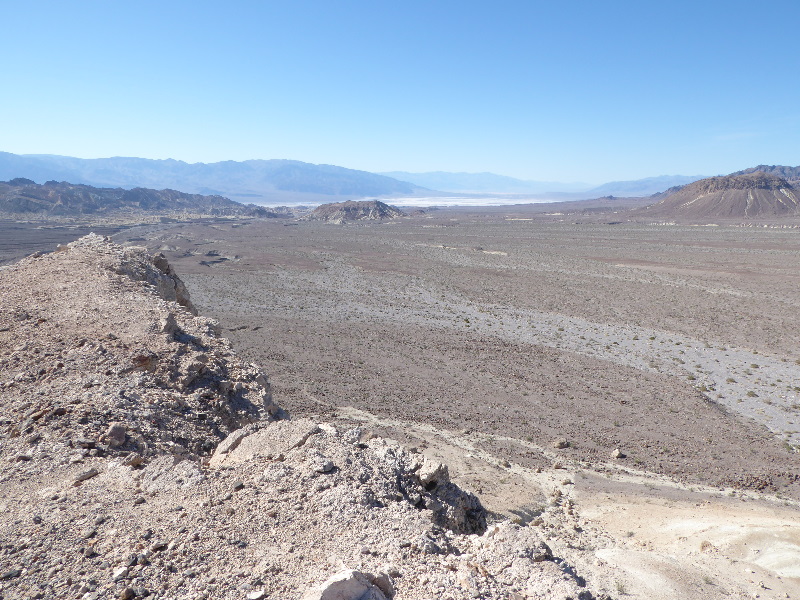 Next up was Pinto Peak, the long way, from Emigrant Pass. There's an old road which goes a long distance to the summit, and we'd been on that before to the top of Jayhawker Cyn, but we did it a different way this time. First we headed on the other trail out of the pass, over to White Sage Flat. That spot has fascinated me for a while and I wanted to check it out - nice Joshua Tree forest over there, some wildlife, traces of an old airstrip (from when the monument headquarters moved up for the summer?). From the Flat we just headed up ridges, gradually getting into the pinyon / juniper zone.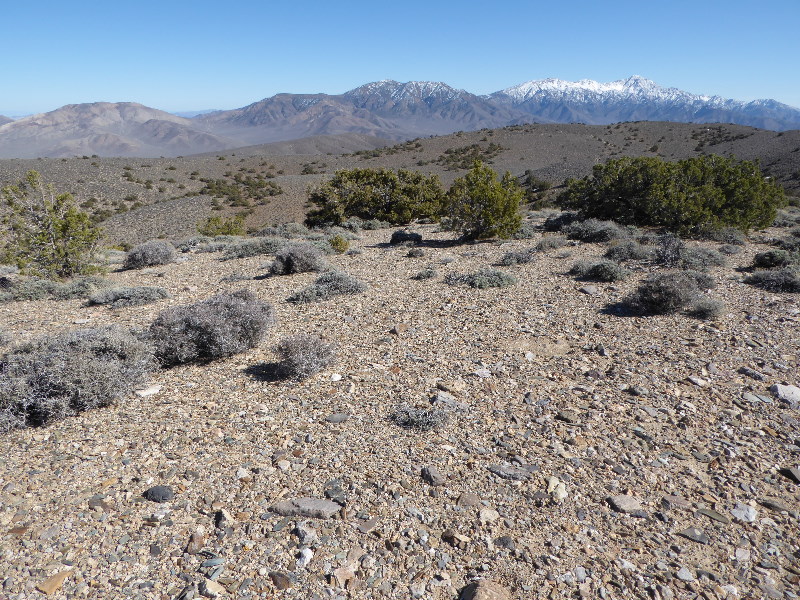 We ran out of time and had to turn back about a mile before the summit, but we came out on the old road. It is very scenic up there and there were nice views over to Telescope. We came up the ridge on the right in the photo. A long long day however, many miles.
Next up was a very short drive to attempt to get to Twin Spring way up Mosaic Canyon. We mostly followed the various bypass trails on the way in and so were above the crowds. We took the appropriate side canyon, which was steep but no serious obstacles. The action was at the crossover to the next side canyon and the spring. The route was clear but it was sketchy in places with a bunch of pretty loose crap. Half the party bailed out, then I took a nasty slip which had me sliding on my stomach towards an edge, with everything I grabbed just breaking off in my hands. Well with Eric's help I got out of that jam but then retreated to clean the many wounds and we punted on the main goal. Still there are nice views to the north.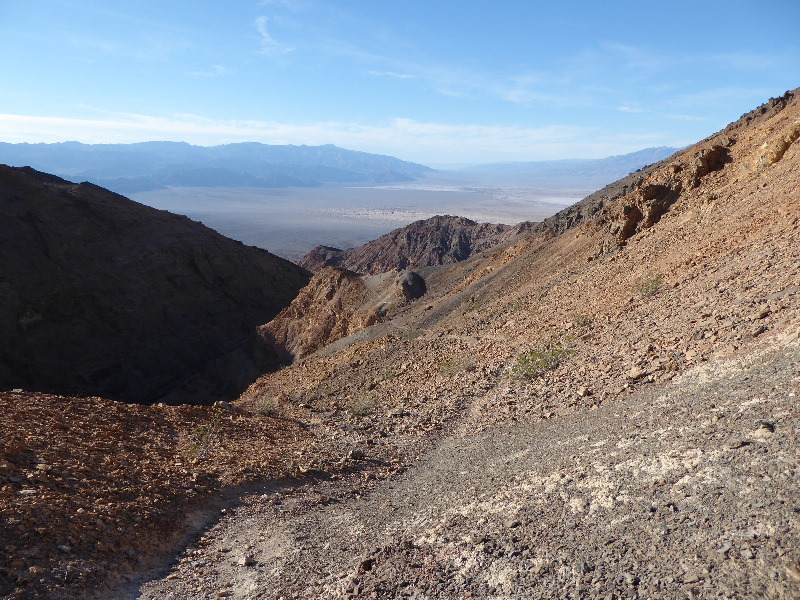 When we got back to the main canyon we headed up a bit until we were stopped in a stunning grotto.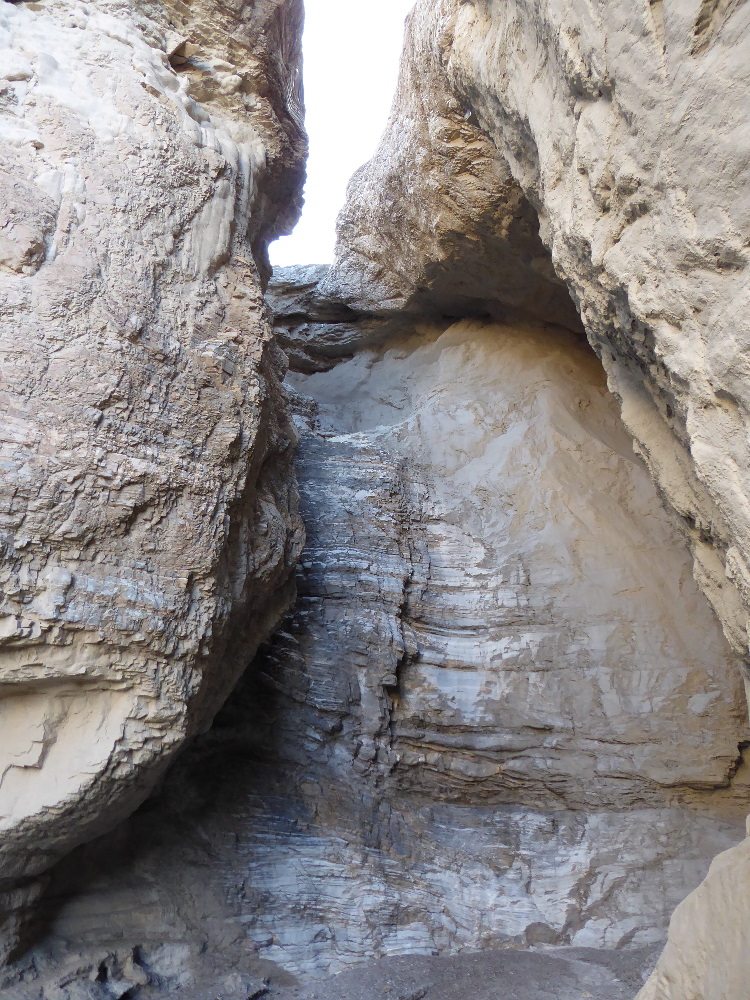 This spot is amazing because there is a thick layer of mud smoothed all over the canyon walls up at least 50 feet, and at least an inch thick. You can certainly tell that there are flood events which you'd not want to witness from the canyon floor!. On the way out we encountered a large chuckwalla who apparently appears to those intrepid hikers who get that far up canyon, and we dropped into the main canyon for the late day walk out, when it was nearly empty.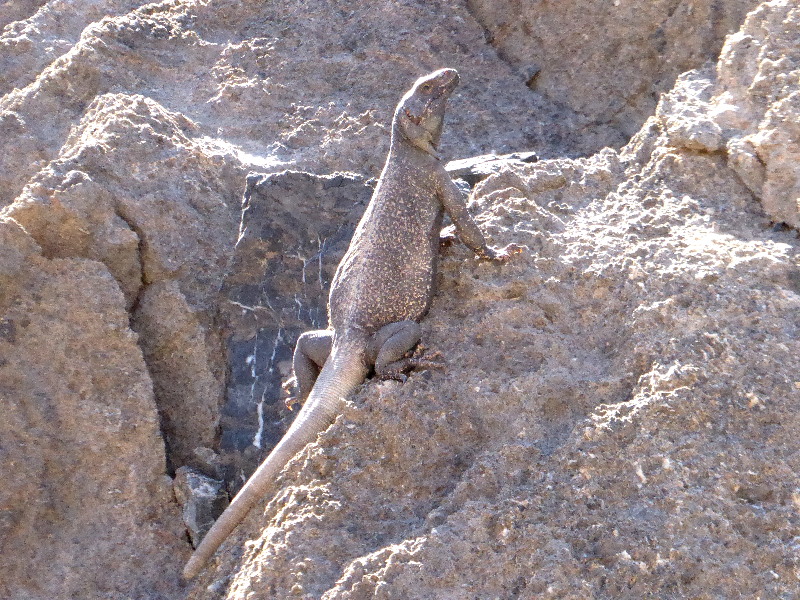 After taking the fall we all felt like hiking on something resembling a bit of trail so we headed over to Dante's View to hike to Mt. Perry. A few years earlier we'd gone out there but had to stop about half a mile before the true summit. This time we went all the way. It was pretty hot mid day but most of the time there was enough of a breeze to cool us down and of course this hike is continual views as you traverse the ridge.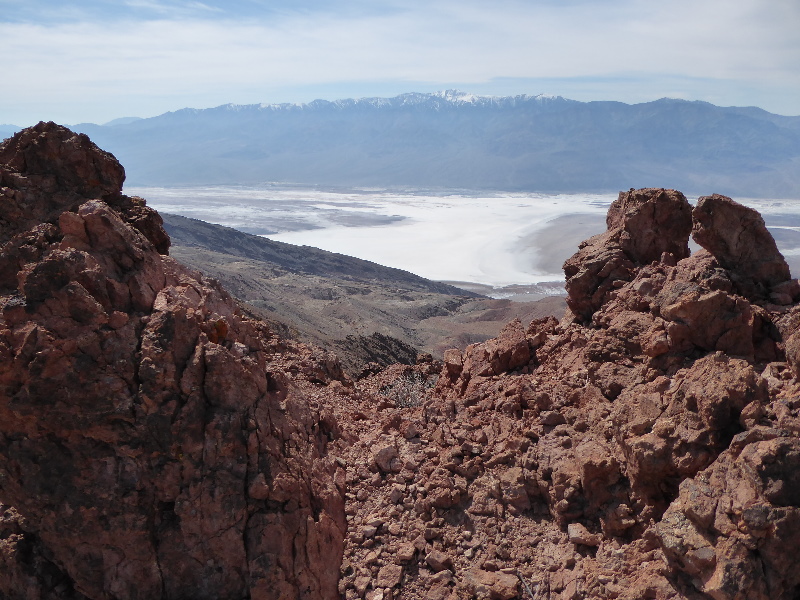 I'd planned a number of hikes on or near the valley floor but as the week wore on and it got only hotter each day, it seemed crazy to do these. We we headed west up to Towne Pass and hiked over to Towne Peak. Again, Kathy and I had been there some twenty years ago. The climb up (and down) the basalt rocks above the pass was just as tedious, but once you get up onto the edge of Dolomite Canyon the views are grand and the walking much more pleasant. Although really just a high point on a ridge, the peak is still pleasant with nice views over to the west.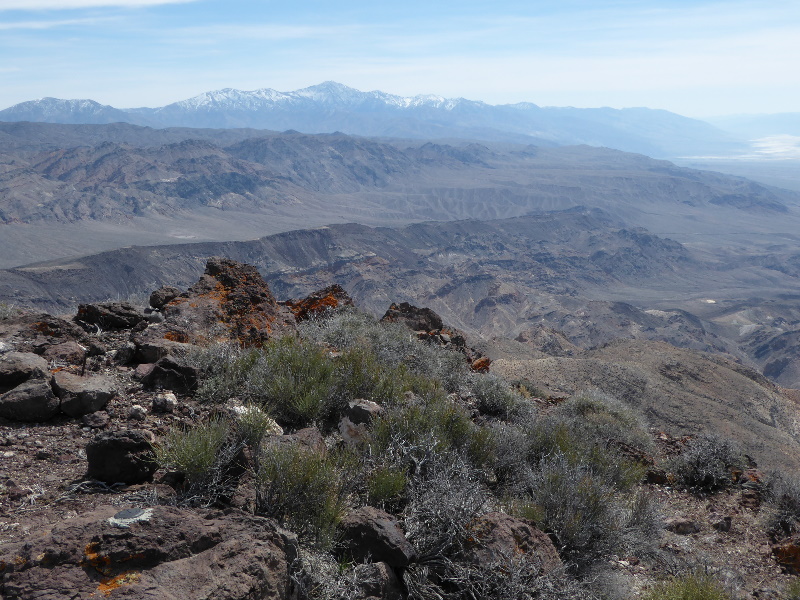 For our final day, what to do? Hotter still down low. Snow on Wildrose hadn't melted much during the week. So we headed over to Grapevine. It's again funny how your mind erases unpleasant experiences from your memory and we'd sort of forgotten how long that drive in is! We finally started driving up the final canyon but the road was snowed in at about 6500 feet, which is somewhat lower than you can usually get in a 2WD vehicle. But we parked and hiked on, mostly bypassing snow patches on the road. Headed off the road heading west from the pass. My memory (again, from a trip twenty years ago) was that there was a good use trail all the way to the peak, but on this day it tended to disappear in snow drifts so we were largely finding our own way cross country and trying to stay on the snow free side of the ridges. Finally, it was getting late, and we stopped within sight of the final, snow-free slope to the summit. The view is over to Palmer - now that is an epic hike but I wouldn't try it unless I camped at the trailhead to get a super early start (we met another party camped by the road who had done it and were beat but happy)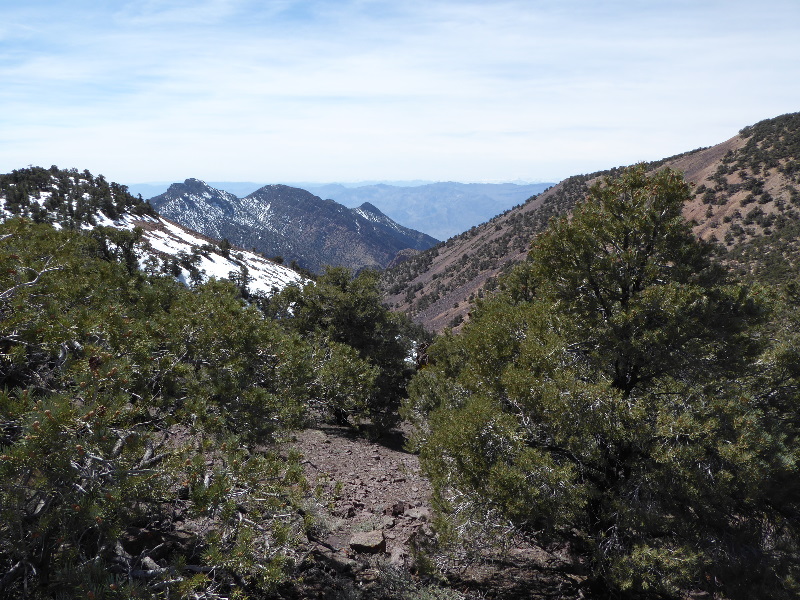 It didn't really matter that we got back to our base camp late after that climb as we were just heading home the next day, and we did see a pair of Golden Eagles on the drive back out towards Beatty. No we didn't hit the monster candy store this time
On the way back to LV the next day we explored a site around Travertine Spring, which is a pretty little spot just up the road from FC.
This trip was another good lesson in why you need to come out prepared for all sorts of weather conditions. The next week was cool and cloudy in the area, and would have been great for all the low altitude hikes I'd hoped to do. Next year!