We got to the Valley the first week of March, narrowly escaping a bad winter storm on the east coast. We stayed at Furnace Creek Ranch (now the Oasis) for the first time ever. The room was nicer than what we usually get at SPW, though it cost significantly more, and, beware, they charge a totally gratuitous $12/day "resort fee" that you're not told about when you reserve over the phone. Everything worked out smoothly and the room was pretty quiet with a nice little patio, but I prefer the darker skies and quieter ambience of SPW. Well next year.
First day was a compromise given our group's composition and we ended up near Bradbury Well going up what Bob Burd calls Longbench Ridge.
We spread out after a slow start and I got furthest along the ridge but not to the high point with the best view you can see at the end in the pic above. Sort of a warmup day.
Temps were forecast to warm up too, so the next day we went to the "Smoketree Slots" as described by Steve Hall. This involves an approach which traverses the width of the valley. There were some pools in the Amargosa and I got the best view I've ever had of a kit fox. We also found the first of what turned out to be many on this trip of Shaggy Mane mushrooms. These are all last year's shrooms; when fresh they are white and well, shaggy. When old, the spores are in dark powder inside this hardened cap.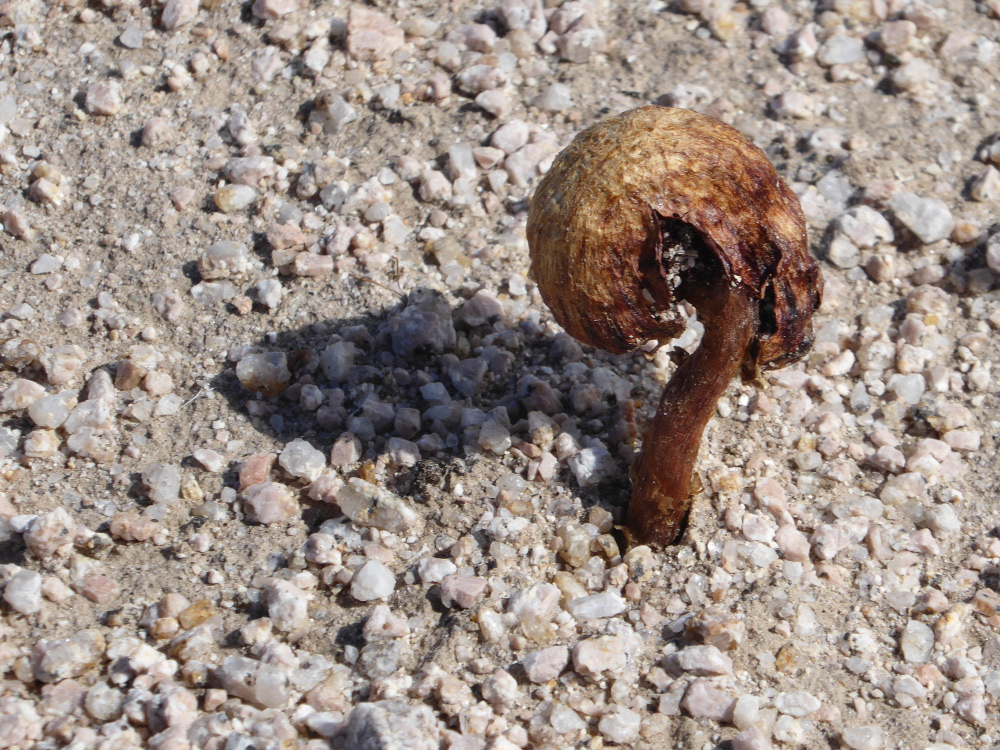 Note that navigating to the actual slot is pretty hard as there is little vertical relief to see in the topos as the slots are in old hardened alluvium. Steve's description of the approach is a little weak and confusing and I don't like to navigate from sat images, but fortunately my phone got signal (from Baker) at the height of our confusion and I was able to snag the sat image on the GPS app and then with the "you are here" dot we were OK (the app cannot cache sat images per Google licensing). We found the "first side slot" to be awesome and although not as enthusiastic as Steve's eloquent prose, we did enjoy hiking in the three slots.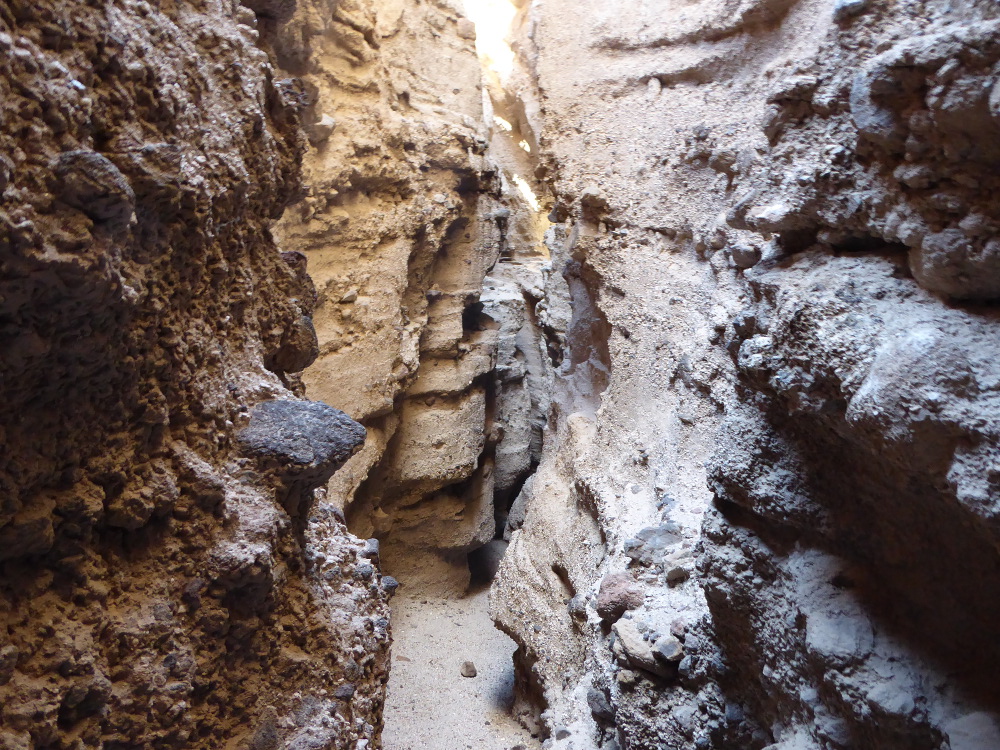 The next day found us in the Greenwater Valley and over Deadman's Pass to Brown Mountain, a peak climbed probably only because it is on the DPS list. It's a good peak though, with some interesting quartz geode formations, and nice views into the Amargosa Valley from the peak. Little traveled I would say. It was a grey day but sunset gave a nice view of the peak.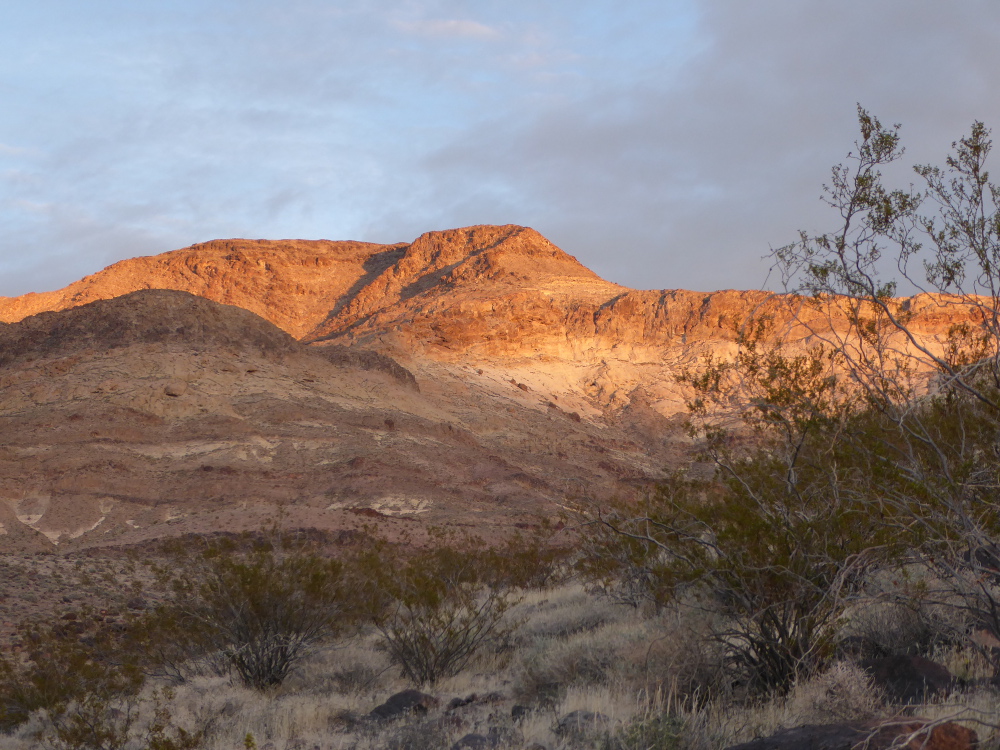 That sunset view is on the way out. We were a bit slow due to getting off route and having to find one ourselves, and got back to the car with the very last light (nice to have a waypoint there to follow, as you can't see the car for the last mile). We had the first of a number of nice views of Venus and Mercury shortly after sunset - not bad for a hand held shot!
OK we got back to our room rather late that night and ate a super quick meal (we bring a microwave and just eat quick stuff, who wants to wait around in a restaurant when you want an early start the next day!). So the next day we got a rather late start up Bat. Thanks to Candace for some detailed notes, we found the correct route easily but we were starting late and it's rather steep and rocky, with a bypass requiring a bit of attention to contend with. We made it nowhere near the top ridges, but did see a pair of courting prairie falcons. The view shows the steep descent with some late afternoon colors.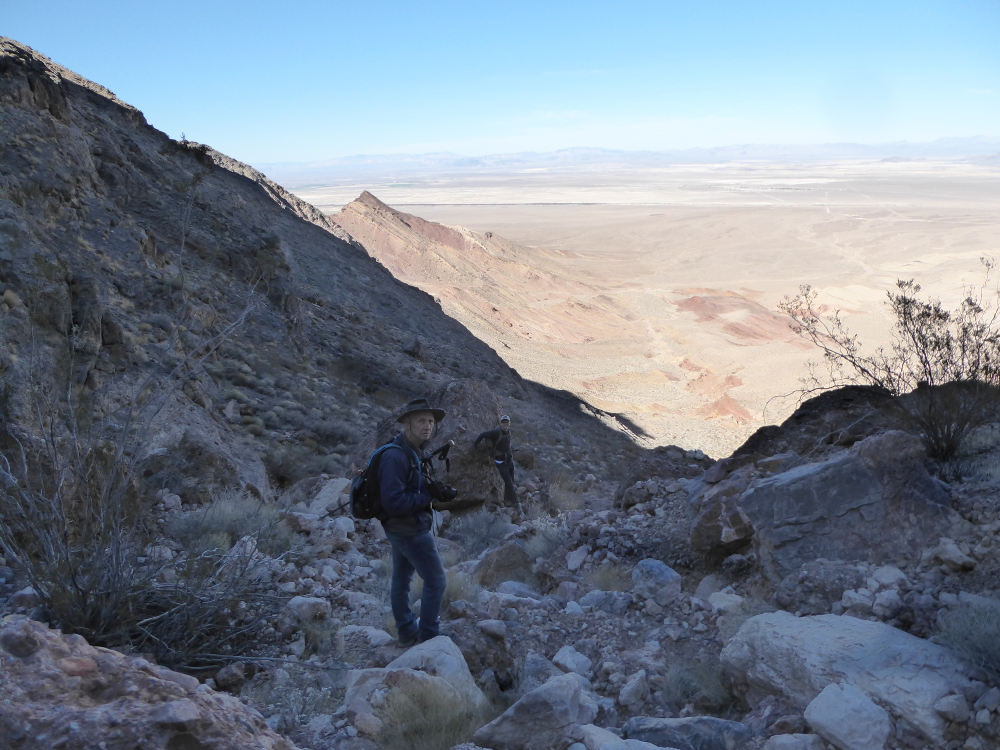 Our last day was by some measures the best. We went up Epaulet from the Greenwater Valley side. After seeing this distinctive peak for so many years, it was great to climb it, and the route is sweet, following traces of old roads then across some very pretty grasslands to the basalt blocks of the summit. We found the cutest little tiny baby "horned toad" on the way in.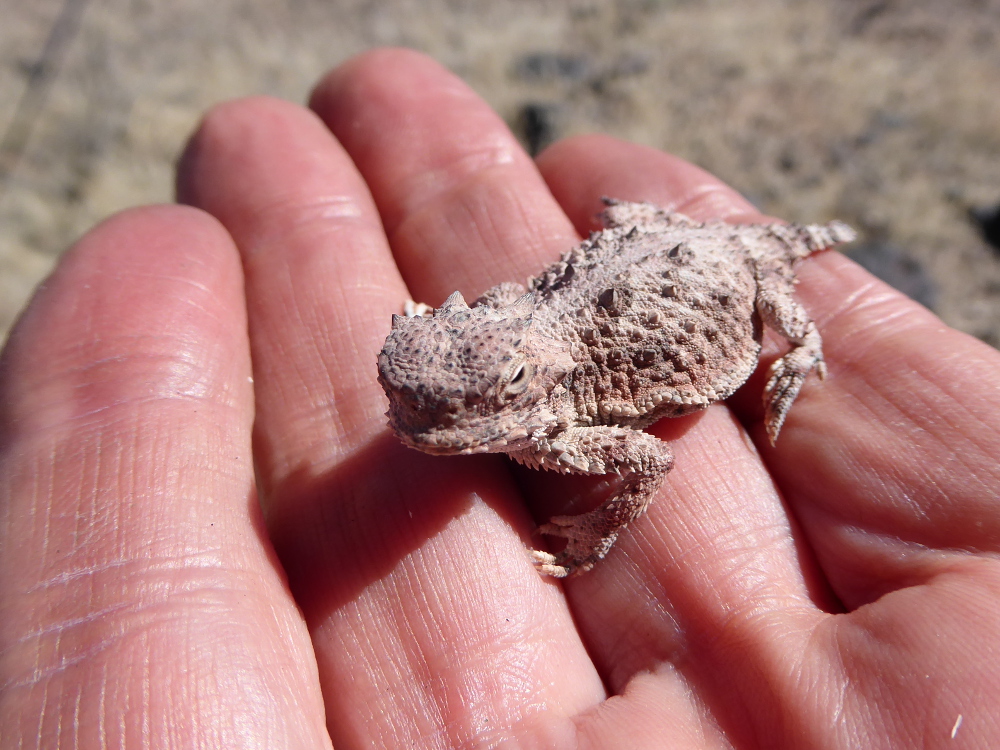 The views are grand from the summit, and it is not very frequently climbed.
Also very nice overview to the east of the Greenwater Valley.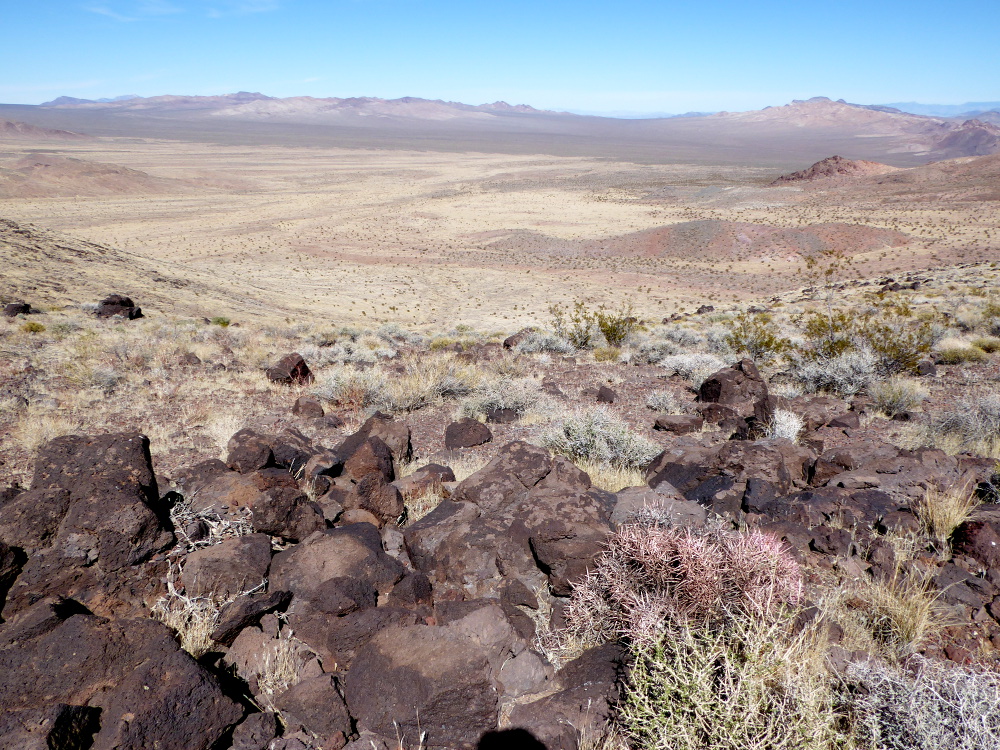 That was another long day and our next day was the last, with just a few hours in the park. We walked the top of Red Cathedral from the Zabriskie Point parking lot. I've followed this track before but now it is officially signed and as a result had much more traffic - in fact I'd never seen anyone else out here but there were half a dozen parties this day.
After this we explored around Navel Spring for a while, and found a number of nice fossils, until it started to rain and we reluctantly drove out 190 and back to Las Vegas. After this I went out with my friend Jim of birdandhike fame, and we did some camping and service work in Basin and Range and Gold Buttes national monuments. These places are both great and I recommend them highly!