I've done a couple of backpack trips from Scotty's Castle Road over the winter, both times leaving my car near the intersection with Titus Canyon Road. It's been important to me to try and get to some of the less visited places from a paved road, since I almost always have a rental car. I have had some tough lessons going off road with rental cars and rental car tires.
Below is a map of the general trip plan, though I ended up parking slightly south of here.
When hiking across the valley floor towards the Cottonwoods, it's very easy to see a parked car from several miles away as well, which is both good and bad. Good, because it's easy to find a way back. Bad, because it makes one feel like they haven't hiked that far to constantly see a rental sedan laughing at them from the roadside
As the trek begins, the hike gets easier even a couple of hundred yards from the road. There are fewer rocks to climb over, and there are even long stretches of sand. There is an occasional ditch to climb around, but it's not much of an issue. Pretty soon, the vistas become hypnotic. That was before it hit the fan. Drybone fan.
Pictured above is the Drybone Canyon fan from the roadside. The arrow points to my first destination, which was the left side of the fan entrance. Drybone fan is easy to spot because it has the widest opening at the top. It also has a slope that starts closest to the road compared to other fans in the area. The problem with the fan though is the rocky terrain and the mileage to the top. In my case, this was exacerbated by a long drive and a late start.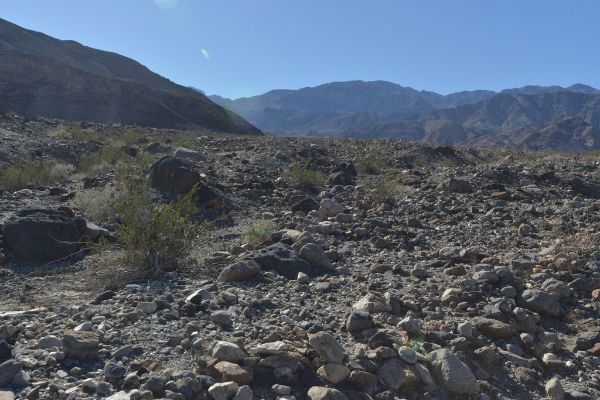 Slightly defeated, I don't think I had even made it to the top of the fan before I decided to set up camp for the night. With high pressure and blue skies forecasted for the next two nights, I finally took a leap of faith and left rain fly in the car: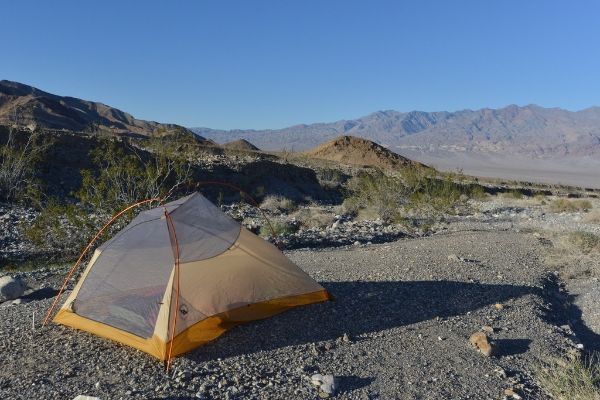 The early night, though, gave way to an early morning. I was up around 4 am the next day. This is one of the advantages of hiking alone is being able to leave at any hour. This would be a big day too, since Upper Big Fall was within striking distance, with only some slight drama in the way.
The hike up the fan became much easier too. There were wide stretches of gravel. Deep ditches gave way to soft creek braids. Once again, the miles went quickly. I did take a wistful look at the entrance to Drybone Canyon to the north, which I had earlier planned on covering too: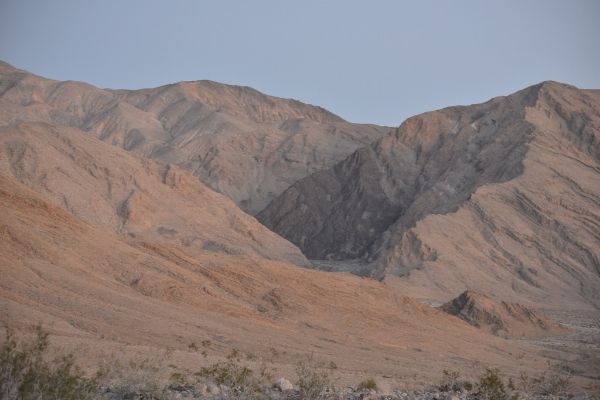 Now I knew the miles and terrain to Drybone would be too much. I didn't think I would ever climb up that fan again either, so it would have to be in another lifetime maybe.
As the sun came up, the drainage around me lit up brilliantly which quickly made everything better. There wasn't a foot print to be seen or sound to be heard except for an occasional caw-cawing bird.
As I headed further up and further in, there were some great little side canyons too. The country started getting greener, and I finally felt like I was in the high desert, so I called the one here Sierra Canyon: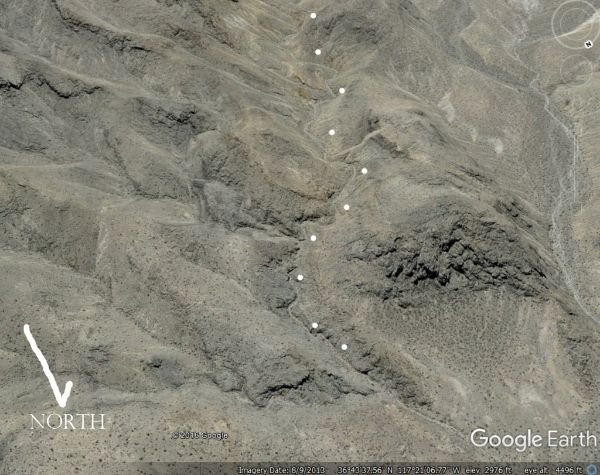 There were some polished blue slots branching off the side of Sierra Canyon that I tried to explore on the way back, but it ended up being too dark to see very much. The canyon itself, though, had some nice dry falls that ended up being easy to climb. From the satellite pics I wasn't sure what kind of surprises I'd run into here, but it ended up being an easy hike.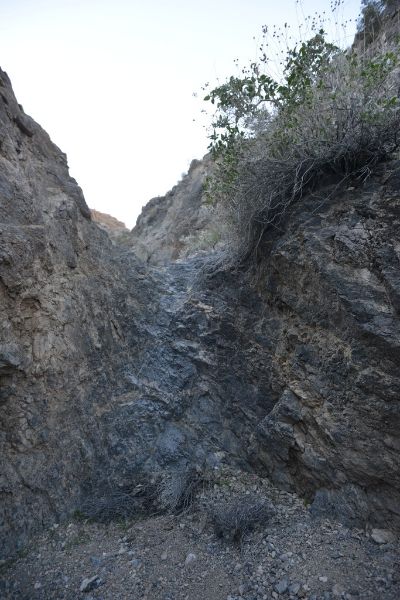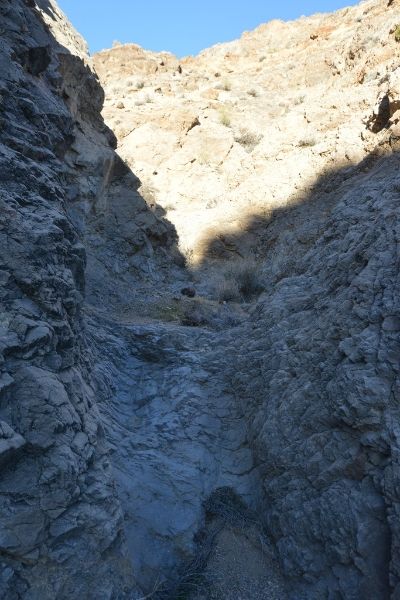 After this canyon, it was a little bit further up to a high ridge. Once I reached the ridge, there was were some navigational and route-finding moves here that were slightly nerve-wracking. It ended up being easy finding my way out, but still, a forgotten turn or a false step in this area of the park could be a very costly mistake.
There was one canyon, in particular, that I'll call Coronary Canyon because of the number of bypasses it required and the feeling that it gave me as I headed down. Dropping into this canyon looks easy enough from Google Earth, but on the ground it was another matter. Every drop point was too high or too rocky. After a lot of looking, I finally found a black stony drainage to hop down into. I think this was it but I can't be sure: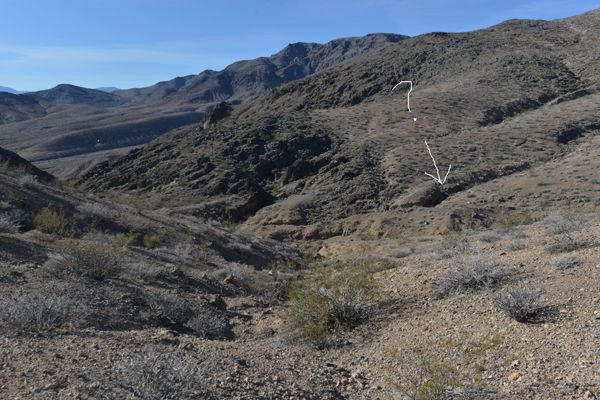 This was a point of concern - if this was the only way into the canyon, how would I find my way out on the way back? I decided to take a picture and burn the way into my mind. Here is the drop in point, and it's as fun as it looks: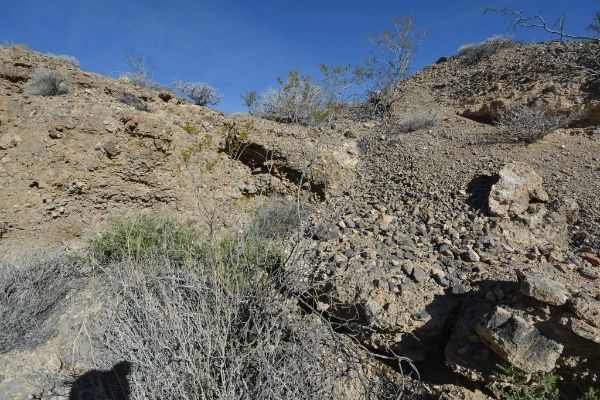 If that wasn't enough, heading further into the canyon, it became clear that there were a series of forks and tributaries - all impossible to climb out of - leading to the main canyon. Once again, it was memorization of the way. I had a personal locator beacon with me, but I really did not want to be a story on the Morning Report. I also had two phones with GPS apps on them. Marking waypoints, I was noticing the blue dots skipping around as the phone had difficulty locking a location with the high canyon walls around. Memorization.
When I hit the first dry fall, I was ready to turn around: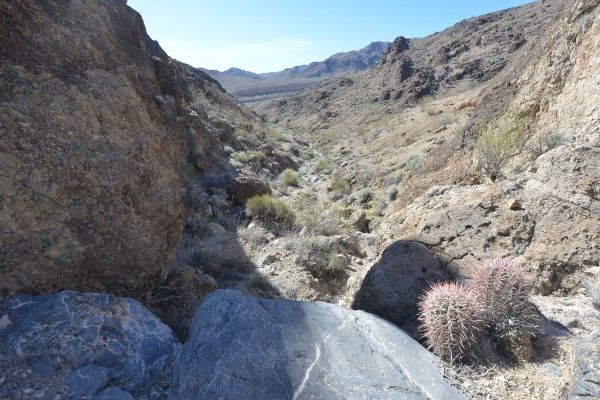 The same was true for the second, third, and fourth dry falls too.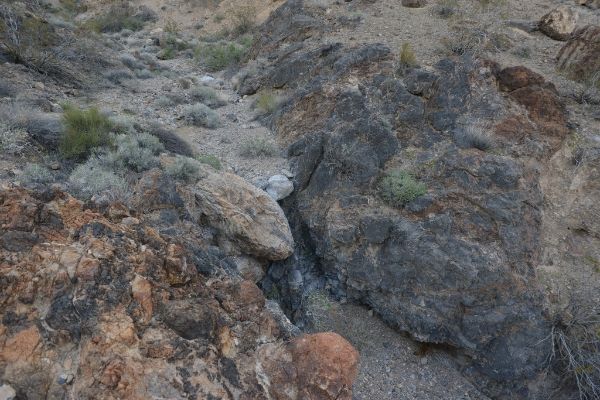 But each time I found a bypass on the right side of the canyon. The third and fourth dryfalls can be bypassed together by simply staying out of the canyon. I was getting the hang of this route-finding thing, after all.