I got in a year end trip to the Sonoran desert, another of my desert haunts. Tucson and the Santa Rita mountains south of the city; they stretch down to Mexico. Tucson is a surprisingly nice place to go if you want to hike and don't mind staying in a city with grocery stores, motels, restaurants, etc. Hikes are half an hour drive in pretty much any direction.
I had two weeks out there so no way I'm going to post a diary, and it's also a bit of work with this forum because you need to copy your photos some place other than the forum to reference by URL. But here are some images.
The Santa Ritas go up to 9200 ft. This peak was at 8800, trailhead at 5200. No trail for the last third meant that even on a weekend I saw only one other person, and he was down on the trail.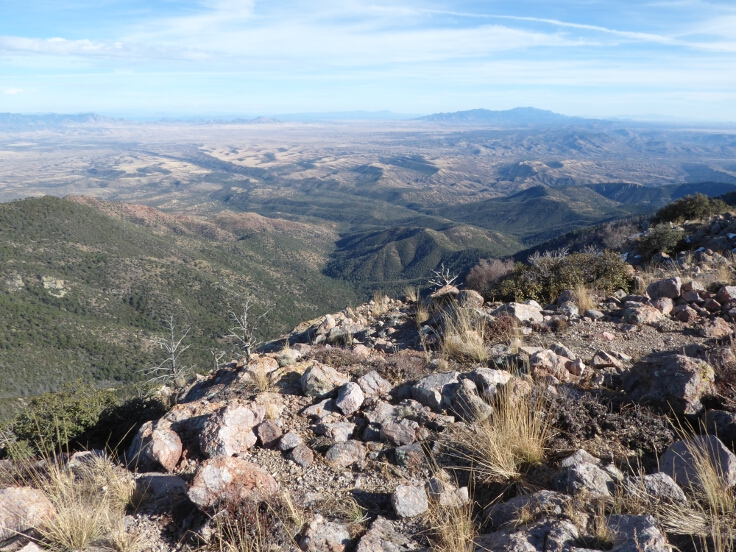 The lower peaks have nice views also. I am particularly fond of the vegetation zone changes from big cactus forests down low to grasslands, pinyon/juniper forest, and ponderosa pine on the highest peaks, with some ancient Douglas fir as well (though the best grove burned down some years ago).
Years ago I got to this "end of trail" sign on Blackett's Ridge. I thought, sure no one can get beyond this. Well on this trip I did, along with a very old friend who happened to be in town. This involved a goodly amount of off trail hiking in airy places, without much exposure really, despite fatal drops on either side of that ridge (Saddleback, the higher of the two connected bumps on that ridge in the center). Sunset colors in this photo. We had to hustle a bit to climb up our exit chute and gain a different trail for the hike out with headlamps. At this point we've gained that maintained trail at its end (you can't see the 400 foot cliff just beyond) and are relieved as we know we can get out by headlamp now. On the horizon is distinctive Thimble Peak, which we got to from the other side later in the week.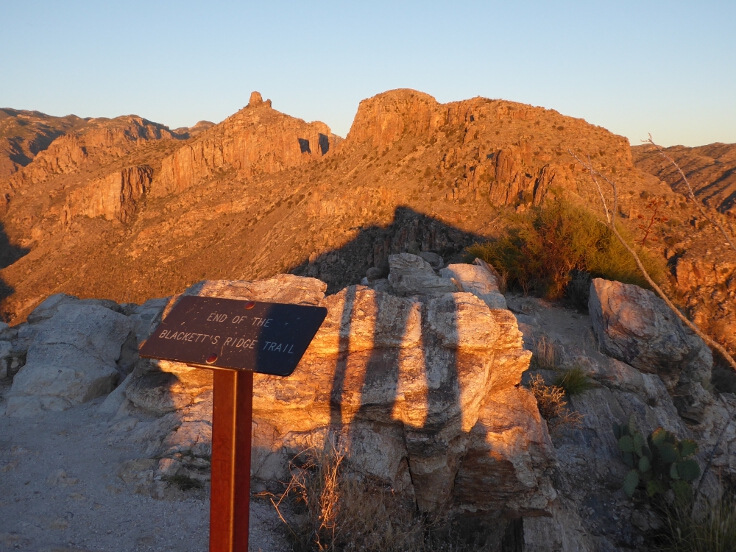 Of course, water in the desert is always a miracle.
Speaking of which, this other gorge with riparian environment is called La Milagrosa, which I gather is Spanish for "Miracle'. We saw otter tracks down by the water! And sycamore and ash trees.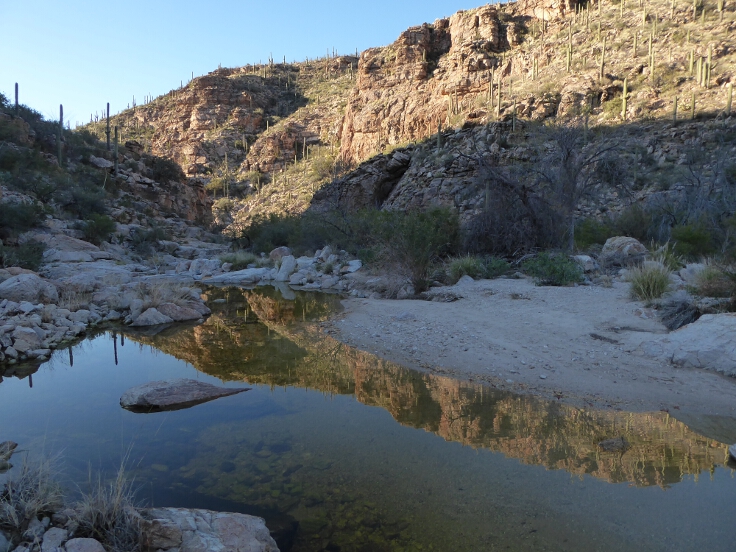 It is always nice to see the colorful ocotillo in bloom, although main bloom isn't for several months yet.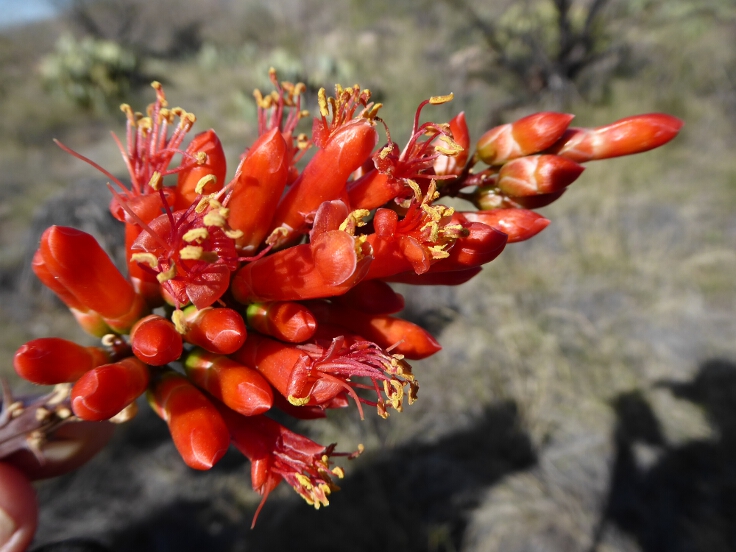 Great animals on this trip (did not see the otters, only tracks). This is a coati.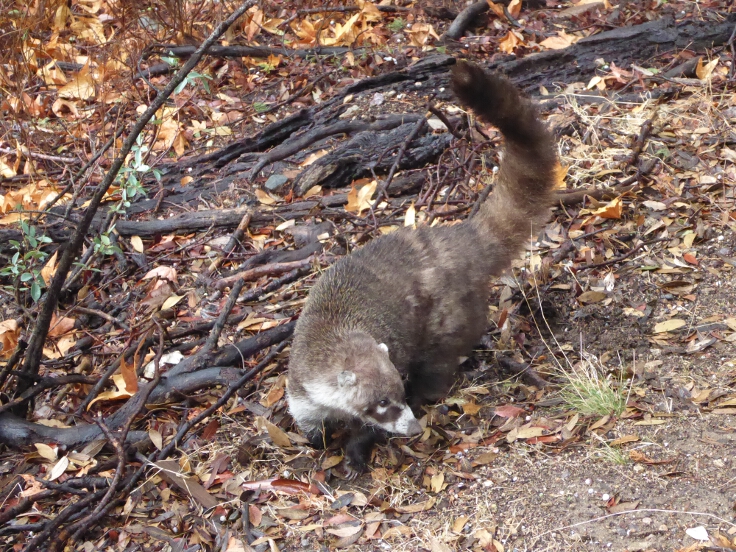 And this cute ringtail was very curious about me. I plopped down on a summit to eat my lunch, and there it was. I had seen only one of these in my 35 years of hiking out there before this week, so this was an exciting find! There was also a pair in the attic crawl space of the cabin I stayed in in the Santa Rita's for a week. Eek, they are nocturnal, and made a bit of noise when the woke up and headed outside to hunt (they like rodents) and eat. But I got some very cute video of them by sticking my camera on my hiking pole, strapping my headlamp onto the pole, poking the camera-pole into the crawl space (could not get my head in there, the ceiling was too high) and controlling the camera from my phone.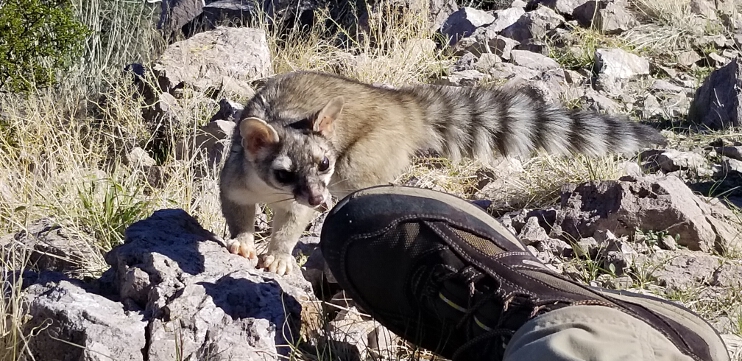 Don't know if I can get it in here, but here's a link to my video. When the ringtail's face disappears beneath the camera, it is actually looking through the crack at me, a few feet from my face!
https://www.youtube.com/watch?v=IdXER9kz81Y